The Power of Andor
The new Star Wars origin story streaming now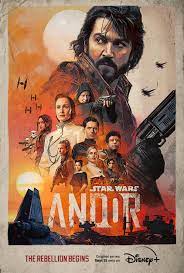 Following the tremendous success of The Mandalorian, Disney+ has released a ton of Star Wars shows. The newest of these shows is Andor, based around one of the protagonists of 2016's Star Wars:Rogue One, Cassian Andor. It follows Andor and other characters as the Rebel Alliance begins to form to fight the Galactic Empire. The first three episodes released on September 21st and have shown that Andor is by far one of the most ambitious projects in the almost 50 year history of Star Wars
The show is gritty and intense from the opening scene. Andor (played by Diego Luna) kills two Imperial officers outside of a brothel. This doesn't feel like any Star Wars project before, it's much like Blade Runner with the dark colors and hopeless vibe. So far there are no Jedi, no Sith, no Stormtroopers, and no mention of any. It's a project within the world of Star Wars while still feeling new and fun. 
We learn a lot about Cassian's origins little by little. We learn his birth name is Kassa and his home planet was destroyed by the Empire. He is searching for his sister on the planet Morlana One while also caring for his adopted mother. He is shown to be more of a thief and sneaky person than a clear cut hero like Luke Skywalker or Obi-Wan Kenobi. After he kills the Imperials, an overly ambitious officer Syril Kam (Kyle Soller) begins a manhunt for him. This slowly builds to a daring escape in episode three with a mysterious man named Luthen, who's implied to be a Rebel leader (Stellan Skarsgard). The action happens suddenly and the show leans heavily on suspense. You're left with a billion questions and a desire to learn more about every character and every aspect of the world this show is expanding upon. 
Prequels are a hot commodity right now. House of the Dragon, Lord of the Rings: The Rings of Power, and Stark Trek: Strange New Worlds have transported fans into the stories that helped formulate the fictional world they love. Andor is certainly worth the watch. It's a breath of fresh air for fans of this iconic franchise. If you're looking for the same feeling of "woah, this is different and awesome" that The Mandalorian and Star Wars: Visions gave you, definitely watch Andor. New episodes of Andor premiere Wednesdays on Disney+ leading up to the finale on November 23rd. The series has also already been renewed for a second season
Leave a Comment
Donate to The Captain's Log
Your donation will support the student journalists of Christopher Newport University. Your contribution will allow us to purchase equipment and cover our annual website hosting costs.