Big Mouth Season 6
Long Time Fan of the Show Shares Their Thoughts on the Netflix Hit's Latest season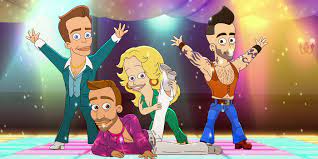 Big Mouth is one of my most favorite cartoon shows. I enjoy it because the creator of Big Mouth,
Nick Kroll , and I have the same humor. I have found myself watching episode after episode
while doing my makeup, or knitting, or any opportunity I get. Big Mouth has become my comfort
show because the comedy in it relaxes me as well as being familiar with the show relaxes me. I
can guarantee I have seen each episode at least 3 times. I don't plan to stop anytime soon
either. A little background on Big Mouth is it follows a middle school boy throughout his days as
well as his friends and family. The show gives all perspectives of the kids as they navigate
things like puberty, sexuality, friendship, and a million other lessons they learn. A unique aspect
that it has is that the characters will talk directly to the camera or speak about the cartoon's
creators which I find to also fit my humor well. As far as season 6 goes, I liked it because a new
vibe was brought from all perspectives as well as new characters. Another thing about Big
mouth is not only does it talk about things like puberty and sexuality, it gives a sense of relation
to those questioning. While it's not a kids show or a show for the faint of heart, it can be a show
for the parents of kids going through these things. It has lots of the kids coming from different
households and backgrounds such as being raised christian or being raised in a household with
siblings or an absent parents. While Big Mouth is meant to be funny and for comedy, I believe it
can shine through that with, as cheesy as it sounds, valuable lessons. Even in the comedy, I
have found many things in Big Mouth to be helpful or at least relatable. In season 6, so many
things are relatable to those in and out of puberty or those questioning sexuality. Season 6 also
expands on one of the characters' home life where parents are split and a new parent is brought
into the picture. Big Mouth presents this issue with all pros and cons of having separated
parents and all of the jealousy and conflict that can come with it. Even though Big Mouth
certainly isn't for everyone and certainly isn't for those with crude humor, I believe that everyone
can find something relatable in there and I 10/10 recommend a watch of an episode or two.
Leave a Comment
Donate to The Captain's Log
Your donation will support the student journalists of Christopher Newport University. Your contribution will allow us to purchase equipment and cover our annual website hosting costs.