The Downfall of Antonio Brown
A Hero Now A laughing stock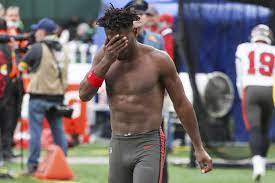 Antonio Brown has had his fair share of controversies, from his destruction of a hotel room to allegedly sexually assaulting a woman. However, nothing could ever top this recent scandal of his. On October 1, 2022, Brown encountered further controversy after it was revealed that he had exposed himself to a woman in the pool at the Armani Hotel in Dubai. Adding further to injury, Brown swam up the woman in question and became physical with her, smacking his butt across her face. Flabbergasted, the woman looked on in complete shock, unaware of what was even occurring to her. 
While this may be the more egregious behavior that Antonio Brown has done, this is just another in a long line of misfires, slowly sinking his once already rocky reputation. Last season, during the game between the Buccaneers and New York Jets, Brown took his jersey, shoulder pads, glove, and shirt off and ran off the field into the locker room. As a result of his wild antics, head Bucs coach, Bruce Arians, has gone on to infamously claim that Antonio Brown is no longer a Buc.
Well, just like Brown, he always has something to say. A few days after the incident and the subsequent press conference by Arians, Antonio Brown made the bold accusation that the Tampa Bay Buccaneers were conspiring a cover-up. He would further go on to claim that he was suffering from a broken ankle which caused him intense pain. As many sports news outlets likely knew, that week seventeen game against the Jets would be the last time we see Antonion Brown play in the NFL. He was officially released from the team on January 5, 2022, and now a free agent.
Having so many high profile incidents makes one wonder: is there something wrong with Antonio Brown? Has he gone crazy? Is he pulling a 2007 Britney Spears meltdown? None of us could ever answer these questions and we may never will.
During Brown's prime, he was known for not only being an explosive wide receiver but a consistent receiving threat overall with a very minimal amount of mistakes. With rumors swirling around about potential CTE injuries, it's quite disappointing to see him running and wilding out, ruining his once stacked legacy.
As much as I (and my mom who adores him) would like for Antonio Brown, the seven-time pro bowler to make a triumphant grandiose comeback in the NFL, there is a very low chance that he will be back to securing great catches and creating beautiful plays. He has reached a degree of recklessness that no NFL team would want to sign him. Currently, he is exploring other endeavors like music.   
If Brown were to be signed to a team, more likely than not, Brown will do something against the rules of the NFL, resulting in another suspension and ruining the reputation of another NFL team. While Brown has had an amazing legacy and is highly considered one of the best wide receivers to ever do it, it's definitely time for Brown to stay out of the NFL for good this time.
After everything that you have heard and read from this piece and the situation at hand, it's important to recognize in this story the act of taking care of one's mental and physical health. Both aspects of health are a crucial determinant to one's success. Especially in the world of Football, CTE can truly be a career ending injury and sadly there is no better example of Brown. From his tense relationship with the Steelers to the infamous shirtless walk-off of the Bucs and Jets games, Brown has single-handedly nearly burned every bridge that he can reach out to. 
If there is any hope for Antonio Brown to make some type of recovery or even a return to professional sports, then Brown will need to find good people to surround himself with, like former teammates Tom Brady and Juju Smith-Schuster, and help him with his CTE before his opportunities and chances in the NFL vanishes entirely. Every NFL watcher, player and enjoyer wants to see Brown succeed. I want to see him succeed. My mom wants to see him succeed, but at this point, succeeding may be a thing of the past for Antonio Brown.
Leave a Comment
Donate to The Captain's Log
Your donation will support the student journalists of Christopher Newport University. Your contribution will allow us to purchase equipment and cover our annual website hosting costs.