New Book Exploring Art of Translation, Co-Written and Co-Edited by CNU English Professor
AN Interview with Dr. Margarita Marinova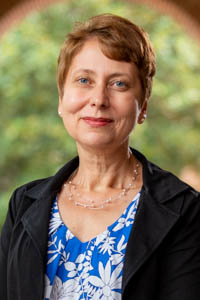 Christopher Newport University is known for having renowned professors who not only excel in the classroom but also truly care for their students and want to help them achieve success in any way they can. However, many students are never fully aware of the work professors put into their discipline outside of the school. Many of CNU'S professors not only teach but also conduct research throughout the year, present at seminars, attend conferences, and write books, whether it be fiction or nonfiction. 
One example of this is Dr. Margarita Marinova who is an Associate Professor of English and Comparative Literature and has written several published articles, books, and journals. Her most recent book that she co-wrote and co-edited with Slav Gratchev is called The Art of Translation in Light of Bakhtin's Re-accentuation published by Bloomsbury.
 Part of the description of the book states that, "the essays examine the art of translation as an exercise in a cultural re-accentuation (a transferal of the original text and its characters to the novel soil of a different language and culture, which inevitably leads to the proliferation of multivalent meanings), and to explore the various re-accentuation devices employed over the span of the last 100 years in translating modern texts from one language to another." 
The Captain's Log had the opportunity to interview Marinova in an effort to learn more about this academic book, Mikhail Bakhtin's impact on society, and what compelled her to write and edit parts of its contents. 
Marinova explained that she had been studying Bakhtin since graduate school and that she had published other books about his translations and writings. He was a Russian philosopher and cultural studies critic of the Novel and is known for the idea surrounding the birth of the Novel i.e. what makes a novel a novel compared to every other text. 
"My colleague Slav Gratchev, who is at Marshall University in West Virginia, and I thought about putting together a volume that is focused on this idea of how Bakhtin's theory of translation is used in contemporary practices," Marinova explained. "I worked with all of these different authors from various places in the world and first they submitted abstracts and there were many more submissions than there are now." 
The whole process itself took about a year and a half but Marinova and Gratchev have published before so they understood the business. In terms of who can read the book, Marinova said that they made sure there would be enough for all types of readers. 
She said, "Even if you're not very familiar with Bakhtin, you can read my essay and get a general sense of what he is saying about translation theory. You can also read the other chapters if you're interested in the topics they're discussing. Bakhtin is just a way to bring together very different research." Dr. Marinova's specific chapter that she wrote within the book is called "Translating Bakhtin, and Bakhtin on Translation." 
When asked about why she became interested in Bakhtin in the first place, Marinova said that she was always curious about his theory on the novel and appreciated his ideas, "About ten years ago, Slav called me and said 'look I have a friend at Moscow State University who is the director of the history department there. They have these tapes that need to be transcribed to English so would you be willing to work on them with me, because one of them is actually a series of interviews with Mikhail Bakhtin." Of course she immediately said yes to the opportunity.
Marinova also provided some historical context and explained how Bakhtin was considered an unreliable writer in the early 1900s and was a member of the bourgeoisie but wasn't a Marxist. 
"He was even sent into exile and spent most of his life away from Moscow and Petersburg and was only allowed to return to Moscow in the 1970s when at that point he was in his 70s. He wrote most of his work while he was in exile," she said. However, he eventually became very popular in Western Europe and the U.S. and the Soviets became proud so they gave him benefits which included an apartment. 
The interviews that Marinova was asked to transcribe were conducted by a man named Duvakin, a fellow academic, and they were extremely in-depth and unique because they gave a spotlight into Bakhtin's life and thoughts. 
"You hear Bakhtin's ideas not just about art but also politics, people, and a lot about poetry which was unusual at the time," Marinova described. 
He had an amazing memory as well, even into his old age. The most fascinating fact about this whole process is that it was revealed that the director of the history department at Moscow University left Russia due to the war and smuggled some of the tapes with him because he is Duvakin's own grandson. 
Marinova said, "We didn't know that! We had been working with this guy the whole time without realizing that. He didn't feel like it was appropriate to mention that he was the grandson of the guy who did these secret interviews in the 70s." 
Bakhtin was no doubt an influential scholar who had an indelible impact on literature and the Western civilization. The Art of Translation in Light of Bakhtin's 
Reaccentuation goes on sale on November 3rd and while this book will mostly be sold to libraries and universities, it's suitable for any student with an interest in Bakhtin and his theories, especially since it was spearheaded by one of CNU's very own.
Leave a Comment
Donate to The Captain's Log
Your donation will support the student journalists of Christopher Newport University. Your contribution will allow us to purchase equipment and cover our annual website hosting costs.