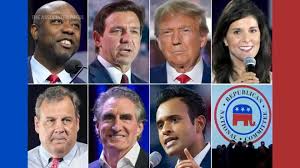 On Wednesday, Aug. 23: the first Republican presidential primary debate was hosted by Fox News in Milwaukee, Wisconsin. Nine of the 14 major Republican candidates were invited after meeting the criteria set by the Republican National Committee(RNC), with only former President Donald Trump declining the invitation – instead choosing to be interviewed by Tucker Carlson at the same time as the debate. 
The remaining eight candidates were in attendance: Florida Governor Ron DeSantis, former ambassador to the United Nations Nikki Haley, businessman Vivek Ramaswamy, former New Jersey Governor Chris Christie, South Carolina Senator Tim Scott, former Vice President Mike Pence, former Arkansas Governor Asa Hutchinson, and North Dakota Governor Doug Burgum.
Story continues below advertisement
While Trump was absent from the stage, he was frequently mentioned by the remaining candidates. Haley, Hutchinson, and Christie took aim at the former president while the rest either defended or forgoed discussing him. However, only Hutchinson and Christie declined to support Trump if he's convicted of any of the four cases against him. 
The candidates gave their stances on a range of issues, such as abortion, crime, the economy, education, climate change, and foreign policy. Just as often though these candidates would launch attacks across the stage as well. Ramaswamy, who is now 2nd place in most of the polls for this primary race, battled attacks from Pence, Christie, and Haley. The moderators of the debate, Martha MacCallum and Bret Baier, frequently had to break up these arguments and reign-in an audience that was quite animated.
The next debate will be on Sept. 27th in Simi Valley, California. Scott, Ramaswamy, Haley, Pence, DeSantis and Christie have unofficially qualified. Trump has indicated he doesn't intend to participate in this one either. Meanwhile, the other seven candidates are scrambling to get the numbers to technically qualify.