Clarence Thomas's Financials Investigated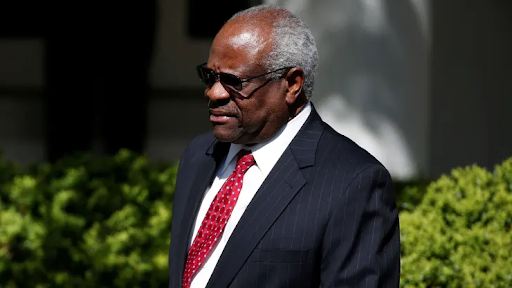 Clarence Thomas, the 74-year-old conservative associate justice of the Supreme Court, has recently been questioned about his financial practices. 
Thomas has served on the nation's highest court since 1991. For the last two decades, Thomas has reported on required financial disclosure forms that his family received rental income equaling hundreds of thousands of dollars from a firm called Ginger, Ltd., Partnership. The real estate firm was launched by his wife, Ginni Thomas, and her family members in 1980. According to a Washington Post report, that firm has not existed since 2006. 
     State incorporation and property records show that a separate firm was created that year and assumed control of the company's land leasing business. Thomas has continued to report income from the nonexistent company in recent years, with no mention of the newer firm, Ginger Holdings, LLC, on the forms. CNBC reports that Thomas reportedly disclosed between $50,000 and $100,000 in income from the old firm annually. 
    This marks the latest question around his financial practices after a recent ProPublica report revealed Thomas had accepted secret luxury trips from Republican mega donor Harlan Crow for more than two decades in apparent violation of a financial disclosure law. ProPublica reported that Thomas failed to report the trips on his financial disclosures. It was later reported that Thomas sold property to Crow, which he failed to disclose as well. 
     Thomas released a statement claiming that colleagues told him he did not have to report the vacations and that he has always tried to comply with disclosure guidelines. He has not publicly addressed the property transaction. 
In addition to the recent revelations about Thomas's financial relationship with Harlan Crow, ProPublica cited a period in the 2000s in which Thomas failed to disclose his wife's employment until the omission was reported by a watchdog group, Common Cause. The Washington Post reported that Ginni Thomas earned more than $686,000 from the conservative Heritage Foundation between 2003 and 2007, but Thomas checked a box labeled "none" for his wife's income during that period. He had done the same in 2008 and 2009 when she worked for conservative Hillsdale College.
     The Senate Judiciary Committee's Democratic majority called for an investigation into Thomas' noncompliance with disclosure requirements on Monday. The committee announced in a letter that it would hold a hearing "in the coming days" on "the need to restore confidence in the Supreme Court's ethical standards", CNN reported. 
Leave a Comment
Donate to The Captain's Log
Your donation will support the student journalists of Christopher Newport University. Your contribution will allow us to purchase equipment and cover our annual website hosting costs.