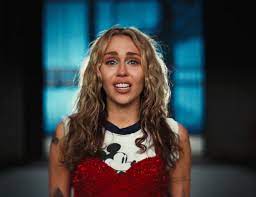 Miley Cyrus is no stranger to reinventing herself. From the release of her first studio album to her most recent, Miley has gone through some significant changes in her style, appearance, and lyrics. Her music has changed from songs about friendship from her days as a child star to songs about drinking and partying as a grown woman. 
Miley began to change her public appearance when she cut her hair short and wore much more revealing clothing. She was showing the world that she was no longer an innocent child star but rather a grown woman who embraces her sexuality. Much like other former Disney channel stars, including Selena Gomez and Demi Lovato, Miley has acknowledged how being a child star affected her growing up. 
Story continues below advertisement
She told Harper's Bazaar in July 2017, "People were so shocked by some of the things that I did," she continued. "It should be more shocking that when I was 11 or 12, I was put in full hair and makeup, a wig, and told what to wear by a group of mostly older men…It's no wonder that a lot of people lose their way and lose who they really are because they always have people telling them who to be". 
Miley's recent single "Used To Be Young" reflects on her time as a young woman in the industry and the growth she's experienced throughout that time. "This song is about honoring who we've been, loving who we are and celebrating who we will become," Cyrus posted on X (formerly known as Twitter). She wears a Mickey Mouse T-shirt in the "Used to Be Young" music video—a little nod to her disney channel days. The song debuted in the top ten on Billboard Top 100 Chart, peaking at number 8, and earning Miley her 12th career top ten, according to Billboard. 
In honor of her single, Cyrus released a series on her TikTok page called "Used to Be Young" where she reflects on the past three decades of her life and shares never before seen videos and fun facts about her career and personal life. Alongside the video that announced the series, Cyrus stated in the caption, "Sometimes it feels like my life started when Hannah Montana was born. But before Hannah there was Miley. My fantasy was to light up the world with laughter, music, and iconic moments that last beyond my lifetime," she wrote. "Decades later, I continue to fulfill my purpose because of the love provided by my fans."
Miley's openness with fans and vulnerability in her music is the reason people love her. This new era marks a significant milestone in Miley's evolution throughout the years, and she certainly has come a long way from her Disney channel days as Hannah Montana but continues to embrace her past.