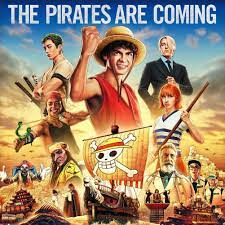 Netflix has long had the reputation of having horrendous live action anime adaptations. Netflix's Death Note and Cowboy Bebop both left a bad taste in the mouths of both dedicated fans and casual viewers of these shows. However, the recent adaptation of the long lasting fantasy anime One Piece has taken by storm and stunned fans with how good it surprisingly is. 
The One Piece manga debuted in 1997 and has amassed 1,076 chapters as of July 2023. The anime debuted in 1999 and has been steadily going with 1,074 episodes. The manga and anime have been praised for their longevity and ability to stay relevant and interesting for the past 26 years. The Netflix series follows around the first 100 chapters during the "East Blue" arc. 
Story continues below advertisement
The story follows Monkey D. Luffy (Iñaki Godoy), an aspiring pirate captain who seeks to find the legendary treasure known as the "One Piece" which will make him King of all pirates. He finds his crew in the enigmatic thief Nami (Emily Rudd), the gifted warrior Zoro (Mackenyu), the kind and boisterous Usopp (Jacob Romero Gibson), and the charismatic chef Sanji (Taz Skylar). The crew searches for the One Piece and encounter a variety of enemies along the way such as the sociopathic Buggy the Clown (Jeff Ward), a fishman warlord named Arlong (McKinley Belcher III), and the Marines of the World Government led by Vice Admiral Garp (Vincent Reagan), who seek to kill the crew before they find their way out of the East Blue Sea. The show also follows Luffy's Marine friend Koby (Morgan Davies) who seeks to help people through being a Marine in spite of corruption within the ranks.
The show feels accessible to both fans of the anime and anyone who might just casually be strolling for a new show to binge on Netflix. It balances interesting and fun characters, well choreographed action, humor, and story with strict adherence to the source material. It even manages to use effects to show Luffy's stretching abilities in a way that looks just like the anime. Just like in other depictions of this story, you grow invested in the crew, their origins, and their dreams. It's been a notable surprise at how well the show has been, given Netflix's track record with these adaptations. It also shows that embracing the weird and wild of some anime is what is needed to give the show flair. It's absolutely binge worthy and you'll be entranced by all the stories and events that happen within it.
One Piece is currently the number one show on Netflix and has been so in 84 countries, breaking the record of Stranger Things season 4 and the first season of Wednesday. This show is an undeniable knock out and hopefully a season 2 will follow. 
4/5 Straw Hats Approved