An In-Depth Interview with Mayoral Candidate, Phillip Jones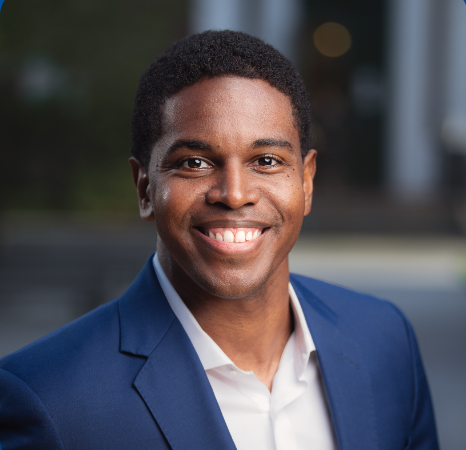 The Captain's Log sat down with Newport News mayoral candidate, Phillip Jones for an in-depth interview about the goals and policies that he hopes to put into motion if elected.
Jones, a native of Virginia, grew up in a military family and is a Marine Corps Veteran. He graduated from Harvard Business School and Harvard Kennedy School. Jones is actively involved in the Newport News community, serving on the Newport News Planning Commission, the Board of Directors for Habitat for Humanity Peninsula, and the Board of Trustees for the Commonwealth's Veteran Services Foundation.
You can learn more about Jones on his campaign website: phillipjonesformayor.com

Why are you running for mayor, Mr. Jones? 
"I'm running to be the next mayor of Newport News because Newport News should be a top 100 city in America. We have the assets, we have the Shipyard, Fergueson, Canon, The Tech Center, Jefferson Labs. We should literally be on the map, but I have always said we are asset strong and we are strategy poor. What we need is a youthful vision, that is supported by a lot of mentors…to unify the city, to bring us together and move us boldly into the future"
Have you always wanted to run for mayor?
"I think this is a moment in time when there is a lot of energy happening in Newport News and I think Mayor Price has laid a really great and strong foundation, but now it is time to use that and capitalize on it and move into the next decade. There's been a lot of things happening around the country, we have COVID, which has affected Newport News, we have a large portion of our population that is underserved, underbanked, that live in food deserts. I think COVID has allowed cities across the country to revamp, to reorganize and to say, "what type of life do you want for your citizens?" and I want to be at the vanguard of reimagining what it means to live in Newport News."
City Hall's lack of communication with the people has been a source of much criticism, your website mentions monthly town halls, audits of departments, and broadcasting city council meetings, do you expect you will be met with resistance from city hall for these reforms?
"I don't think so. I think, one, it's going to be a completely new council. Everyone wants more transparency and accountability, I think that's the point of government. So I don't think there's going to be any resistance at all. I think there may be some initial sort of, like the first year, may be a little rough, but I was in the Marine Corps for over a decade, I've led troops on four continents. I was in Mongolia with the United Nations and dealt with 12 different countries, including China on the border. I think I can handle City Hall meetings."
With both Newport News and CNU getting new leadership, how will your mayorship work with our university to ensure success for all involved?
"In my civilian job, I'm a business consultant, I'm a management consultant, so we always start macro to micro. So with macro, the word I want to leave you with is a lasso. I think what this area needs is to strengthen ties between the military, with CNU and our academic spaces, as well as with the Jefferson Lab Tech Center. All that combined in a sort of economic lasso will allow us to pursue more commercial activities. So CNU is kind of part of that triangle, if you will. That's the first thing. Number two, I think when you look at CNU, there has always been this sort of CNU is in Newport News, but it is not Newport News. I think we are starting to realize a lot of people who go to CNU are not from Newport News. So I think it's, can you get more kids from Newport News, probably even downtown or uptown kids, who are usually underserved to come to CNU, number one. And number two, how do we make sure that CNU kids are registered to vote in Newport News…How do we make sure they're involved in local elections? Honestly, the president and your senators matter, but who you vote for your mayor is going to have a day-to-day impact on your life. Your roads, your schools, you're gonna feel that much much more than what you're going to feel about who's the senator. So I always say you should definitely vote in everything, but if you're going to vote you should vote in your local elections." 
You express a desire to see Newport News become the "economic engine" of Hampton Roads and to see Fortune 1000 companies become involved in the city. How will you balance the entry of major companies with the many small businesses here in the city? 
"The first thing that I'll say is small and medium businesses are always going to be the backbone of the American economy. That's not going to change. Additionally, small and medium businesses – they provide the culture that is hard to create from a large company. Fergueson doesn't create the culture, but these small mom and pop shops, those are the ones that create culture. I think the days of getting a Fortune 500 company to come here, I think those days are done. I think Fortune 1000 are emerging companies that you can still create culture and have the flexibility to bring younger people. Like Richmond, they have a lot of Fortune 1000 companies and it's the cool spot to be…you can do that, you can balance that… I think we need to invest in our small businesses because they give us that extra culture. That's how I look at it. The third thing I would say is I think Covid taught us a lot about remote work. You see Richmond, you see Tulsa, Tulsa is paying people $10,000 to move to Tulsa and work your remote job . A lot of people are doing that. We are basically a suburb of D.C. we fix our light rail and make the Amtrak faster, you can technically work your D.C. job remotely here and go up maybe once a week. So I think we have to look at, number one, we need to make sure we have the resources to invest in small businesses. Number two, we look at remote work opportunity. Number three, is developing that entrepreneurial ecosystem that's here. Incubation Center,, Jefferson Labs, Tech Center, that sort of thing…I'm on the Newport News Planning Commission… so I do a lot of zoning and everyone says Newport News, we are in the middle of 804 to the beach, people come through us. We are literally in position to be the heart and soul of Hampton Roads."
Nationwide we have seen a variety of issues in education ranging from culture wars to teacher shortages. How do you plan to work with the School Board to make sure Newport News doesn't have these issues like we see in Chesapeake

?
"Education will always be the great panacea to set people up for success. We need to fully invest in our kids, kids are the future 100%… Frederick Douglass always said, 'it's easier to build up children than to repair broken men and women,' so I think it's important to do that as mayor. The City Council and School Board meet only once or twice a year and they just started that recently. The School Board would like more money to fund programs and City Hall has a finite budget, so there's inherent tension there. I think the way that you resolve tension is communication… I'd like to meet every two weeks. I would like to have a 5 year and 10 year plan. I want to have KPIs associated with it, I want to have bonuses tied to it. I want to have the best teachers in the worst schools…In the Marine Corps,we always said the role of the leader, the role of the officer is to be at the point of friction. Wherever is the hardest part, that's where the person should be. If it's an underperforming school, that's where the mayor should be, that's where I need to insert myself. That's where the best principals should be, that's where the head of the School Board should be. Look at Maslow's hierarchy of needs,  public safety and education go hand in hand. I think we are doing a good job, but I think we could do a better job to make it a stronger Newport News."
With the recent issues of the Seaview Apartments controversy, what steps will you take to make sure that doesn't happen again?
"The City of Newport News knew about the issues weeks and months before it happened. One, we need to ensure that tenants understand the Tenants Bill of Rights, that's the first thing. Number two is we need to hold out-of-state landlords accountable and… we have to pursue legal action if necessary. What we cannot do is have a situation in which underserved people are given 48 hours to vacate a premises…it's very hard to find an apartment in the city. Where are they going to go, now they're displaced? There has to be accountability. Day one of me being mayor is, that first week, we are going to do what's called a Safety Stand Down. We're going to every big apartment and we're seeing what is the current discrepancy list and how can that be fixed. That's [the Seaview Apartments controversy] not going to happen on my watch. I'm not pointing blame, I'm not pointing fingers. I wasn't involved in Seaview, but that's not going to happen under me, because housing is a human right, that's it." 
Your campaign addressed food deserts, not many local politicians talk about that. Why do you see the issue as vital? 
" I saw a Ted Talk from Mayor Tubbs, the 25 year old Mayor of Stockton, California and he basically said, if you tell me what zip code you were born in and you live in, I can tell you how long you're going to live. Your zip code is tied to how much you're going to make, your mortality. So with certain zip codes in Newport News, if you live in central,  you're going to live longer than someone that is born downtown, just by a five digit zip code, that's insane. I spend a lot of time downtown, with being on the Planning Commission and just driving back and forth and it is a food desert down there. It's very hard, number one, going back to education, you can't be in school and learning if you're hungry. If you're only eating fast food, that leads to diabetes and other health issues. I call it a 'disvirtuous cycle'… I think that we can do better as a city. It's 2022, we have a lot of green space, we can do vertical farming. We have a lot of urban decay in both uptown and downtown and we have a lot of property where we can put greenspace and farms. I'm not saying it's going to change overnight. A simple thing that I would do, they do it in Philadelphia and they do it in New York City, where in food deserts, they do mobile food co-ops. We can do a van…it's not hard to do, it just takes innovation… People deserve that, all residents of Newport News should not go hungry. If you go south of Mercury, it's a food desert…all these ideas, nothing is new under the sun. Other cities have been doing innovative things. I think that Newport News is ready for that young vision. We have a lot of things happening… We've got to have someone who knows what they're talking about and can actually get that accomplished."
"We need to make sure that we are unified in one city. It doesn't matter if your kids don't go to public school, you're a citizen of this city, we care about our public schools. It's expanding what it means to be a neighbor… I want to expand it to be "I'm from Newport News and everyone is my neighbor." 
With the recent mass shooting in Norfolk and many other incidents, college students are really concerned about gun violence. How do you plan to combat gun violence and ensure what happened in Norfolk doesn't happen here? 
"I'll say three things on the issue…I've had gun violence in my family. My cousin was the state senator that was killed in the Charleston massacre, it hits near and dear to my heart. Number one, we need to leverage community change agents… people who have been around the block who young people will listen to, maybe a mentorship. Usually, the people who do violence are 16 to 22… So mentorship – number one. Ensuring that we fully fund our rec leagues and our sports leagues. In the summer if you're bored and have nothing to do, that's sort of the devil's hand… We need to start using nonprofits more, I know the city recently gave out over a $1 million dollars to 15 different nonprofits. It's actually about getting on the ground and doing grassroots things to fix the gun violence. But also, this is not just going to change overnight. Not just the mayor or city council, it's actually the entire community involved, from churches to schools to guidance counselors. I think If I was to target 3 different levers, number one it's youth who are causing most of this, so how do we get them mentorship? Number two is how do we get them off the street into workforce development, into sports, that sort of thing. Number three is using nonprofits, Boys and Girls Club etc, to use their influence to show people a different path…yes we all want to solve the gun violence, but as the mayor it's not getting guns off the streets, I think it's the underlying issues. That [gun control] is more of a state legislative, state senate…the mayor does not pass gun control, the mayor gives money to different nonprofits and people to use that as a lever to stem the violence."
Commuters and other college students utilize the local bus system, but many of the bus stops are small, poorly located, and not protected from the elements. How do you plan to fix this and ensure public transport works here?
"Within the first hundred days, we are covering every single bus stop in Newport News. That's it, full stop. I work out at OneLife near the Whole Foods and people have taken WholeFood carts and made mock benches. We need to have benches, It's not that hard to take wood and hammer it into the ground to make a bench. I think the outside may take a little bit longer, but a bench is a bench… people shouldn't be sitting on the ground. I do know the bus system is a regional system. It's the Hampton Roads transit, they're in charge of it, but the mayor can take care of the benches. That's the easy thing, but I agree, I don't think that people should be having to get rained on or snowed on. It's horrible.
"A year ago, last summer, during the heatwave… there was a guy and I saw him pass out from heatstroke… because he had been sitting, frying in the sun for two hours and fell asleep, and when you fall asleep in the sun, it's never a good thing. We can fix it, the benches are going to be easy… We'll get it done." 
What do you offer to the people of Newport News that the other candidates do not? 
"This is not my quote, this is from the mayor of Atlanta, what he says… the other three that are running, everyone is a great person for the most part. Those aren't my opponents. My opponents are hopelessness, homelessness, and food deserts and lack of hope, those are my opponents. I am 33, I think they are all above the age of 60. I don't think mayor should be a retirement job. I think mayor should be at the peak of your life when you have learned some things. I have led troops on four continents, I am the only business leader, I have started businesses. I understand debt and equity. I understand what it takes to bring a city back. I grew up here, I love it here and I want to make it top 100. I think the other three who are running, they've been around 15, 20 years. Nothing's really changed in 20 years. We've never been an All-American City. That's what I'm running on. By year three or four, if we are not an All-American City, I'll resign…Hampton's won it three times, Beach has won it twice, everyone has won except Newport News and Portsmouth. By year three or four, we're going to win it or I'll step down. Because there has to be accountability." 
Anything else you want CNU students and the people of Newport News to know about you and your campaign?
"Number one, it doesn't matter who they are voting for, they should vote. I think across the country, democracy is the most important thing. I think we need to exercise that right, so that's the first thing that I'll say. Number two is be the change that you want to see. You can talk about it all day, but there has to be action. If you want this place to be a top 100 city, you have to get involved." 
The Captain's Log also reached out to candidates Saundra Nelson-Cherry, Tina Vick, and David Jenkins for interview but has not heard back.
Leave a Comment
Donate to The Captain's Log
Your donation will support the student journalists of Christopher Newport University. Your contribution will allow us to purchase equipment and cover our annual website hosting costs.