Two CNU Professor Wins the Outstanding Faculty Award for 2023
An interview with one of the winners, Dr. Margarita Marinova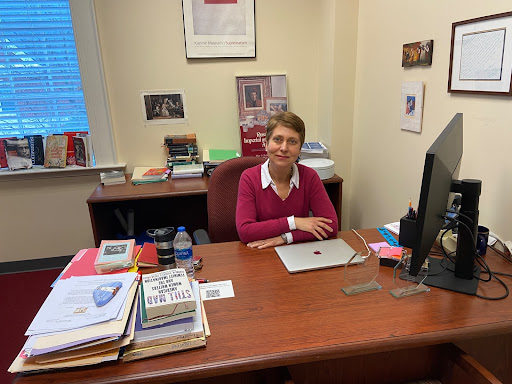 One of two Christopher Newport University professors to win the 2023 Outstanding Faculty Award this year is Dr. Margarita Marinova. The State Council of Higher Education for Virginia considers nearly 80 different nominees from colleges and universities all over Virginia to receive this award. 
Marinova has a BA in English Philology from Sofia University in Bulgaria and then, after coming to the U.S, she pursued her MA in English and an MA in Comparative Literature and finally a PhD in Comparative Literature. After her PhD she was immediately hired at CNU and started teaching and writing.
Marinova has published eight books and is working on another one. After finishing up her book, which will be on tapes from Russia in the 1970s, she is very interested in writing about contemporary, Eastern, European female writing.
When she was first told that she had won Marinova said she was, "Shocked. I did not expect it. And I'm not saying it to be cute. I really did not expect it."
Marinova said " I think there's so many good people here at CNU. With so many wonderful professors in the English Department. I was nominated, I knew I was obviously in the running. But I always thought that I didn't have a chance."
One thing that Marinova thinks helped her win the award is the fact that she has "never said no to a new class… I find it exciting when I have the chance to put together a new syllabus and challenge myself to learn a lot. Because every time you teach a class, you become a student, first. You have to really delve into it and understand exactly what it is that you want to teach before you can do it."
Having never said no to teaching a new class has meant that in the 18 years that she has taught at CNU, Marinova has taught more than 20 unique classes in her time at CNU.
Part of the application for the Outstanding Faculty Award is letters of recommendation from students who were all very happy to write them for her. Marinova's students were thrilled to hear that she had won the award.
Part of the reason that Marinova was able to get all these letters from current and former students is the relationships that she has built with her students. 
The best part of teaching, said Marinova, is "when students tell you, 'Oh, I love that class or, I still think about the books that we read together. You made a difference somehow in my life.'"
To Marinova "that's the best part of the job. … I'd rather take that over any award. But it's nice. It's nice to get the award. No complaints."
When it comes to teaching, one of the things that Marinova has learned over the years "is you have to be humble. Humility is especially important, because when I first started, I had all these lofty ideas…And you understand very quickly that you don't know anything, and the students always helped me see things in a new light."
For Marinova this award is just a bonus for her because for her, "teaching literature has always been more of a calling than a profession"
She will be honored at a ceremony on March 7. Marinova will also receive $7,500 from Dominion Energy Charitable Foundation
Leave a Comment
Donate to The Captain's Log
Your donation will support the student journalists of Christopher Newport University. Your contribution will allow us to purchase equipment and cover our annual website hosting costs.