Adidas Ends Partnership with Kanye West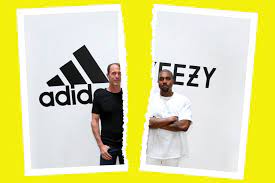 On October 25th, Adidas ended their partnership with rapper Kanye West. After weeks of silence, Adidas released a statement that they would immediately "end production of Yeezy branded products and stop all payments to Ye and his companies." They went on to say that Kanye's recent comments have been "unacceptable, hurtful, and dangerous."
While Adidas released this statement following West's comments, they have not been the first company to do so. Other companies including Balenciaga, JP Morgan, and Gap have cut ties with the billionaire rapper.
Despite the sudden announcement from Adidas on Tuesday, this has been in the making for a long time. After Ye wore a White Lives Matter T-shirt at his Paris Fashion Week show, Adidas had announced that they would review their collaboration with Kanye and his Yeezy brand. Ye then went on to make antisemitic comments on Instagram and Twitter which led to his accounts getting restricted on both platforms. This then inspired him to buy Parler, a conservative social media site.
Since then, he defended his own antisemitic comments. While Kanye had previously blamed his comments on his bipolar disorder, he went on to unleash a 10-minute diatribe on the podcast "Drink Champs," where he ranted about Jewish people.
Earlier this month, leaked footage of an interview with Tucker Carlson broke out. In it, he said that children should learn about Hanukkah and not Kwanzaa because "at least it would come with some financial engineering."
Kim Kardashian, Ye's ex-wife, tweeted on Monday: "Hate speech is never OK or excusable. I stand together with the Jewish community and call on the terrible violence and hateful rhetoric toward them to come to an immediate end." Other celebrities have lambasted Ye and demanded Adidas to stop doing business with him.
The grammy-award winning artist first signed with Adidas in 2013. This made him a billionaire and gave Adidas new consumers. However, the partnership has been far from perfect. Adidas employees have spoken anonymously on the fear they had of being attacked by Kanye's fan base as well as questioned his loyalty to the company after his previous controversies became public. Another employee had said that West would often interrupt the work the company was currently doing and would demand they start over with whatever he had in mind that day.
When the controversy first broke out, staffers threatened to take small acts of action until Ye was officially dropped. Others said they would no longer wear Adidas clothing until the Ye partnership ended.
While Adidas may suffer in the short term, Ye will have lost a significant amount of promotion during this time. This scandal could also lead to other companies refusing to work with him in the future. Kanye's music career is another factor throughout all of this. Platforms such as YouTube, Apple Music, Spotify, and Amazon Music could consider removing Ye's work from their platform. Overall, Kanye's own actions could cost him a lot of money, a lot of publicity, and a lot of respect from both businesses and his fans.
Leave a Comment
Donate to The Captain's Log
Your donation will support the student journalists of Christopher Newport University. Your contribution will allow us to purchase equipment and cover our annual website hosting costs.